United Kingdom
15 records found, shown 1-15
Skill/Title:
Skills:
Harp Player
Genre:

Genres:
Classical
Other genres:
Contemporary, Folk, Soundtrack/Film Music
MP Activity:

1%

Summary/Notes:
"Beautiful harp music for your wedding or function in North West England and North Wales"
State/Province:
Cheshire
Country:
UNITED KINGDOM
Telephone:
01244 675830
Cell. Phone:
07951 222681
Website:
www.oonalinnett.com
---
Added: Apr 1, 2009
Updated: May 11, 2009
Last logged: Apr 20, 2013
Skill/Title:
Skills:
Harp Player
Other skills:
Bassoon Player, Flute Player, Piano Player
Genre:

Genres:
Classical/Contemporary
Other genres:
Classical, Contemporary, Folk, Pop, Soundtrack/Film Music
Gender:
Female
MP Activity:

1%

Summary/Notes:
"Most featured Harpist for the North by BRIDES 2014 "
Address:
Holly House, Sidmouth ave, Newcastle under Lyme
City:
Staffordshire
ZIP/Postal Code:
ST5 0QN
Country:
UNITED KINGDOM
Telephone:
01782 620309
Cell. Phone:
07792698125
Website:
www.jessicasutton.co.uk
Other Website:
www.jessica-sutton.co.uk
Other Website:
jessicalouisesutton.wix.com
---
Added: Jul 12, 2010
Updated: Aug 14, 2014
Last logged: Aug 14, 2014

Skill/Title:
Skills:
Guitar Player
Other skills:
Composer, Computer Music Composer, Singer, Researcher, Teacher, Harp Player, Lute Player, Piano Player, Writer
Genre:

Genres:
Classical/Contemporary
Other genres:
Electronic, Soundtrack/Film Music, Other...
Gender:
Male
MP Activity:

1%

Summary/Notes:
"Guitarist/Harp Guitarist, performed in over 80 countries and recorded 16 Albums. Music awards from the Crown Prince of Bahrian and Government of North Korea for 'Building Bridges Through Music'."
Country:
UNITED KINGDOM
Website:
www.jasoncarter.net
Other Website:
www.myspace.com/jasoncarterguitar
Other Website:
www.myspace.com/helsinkiproject
Other Website:
www.facebook.com/jasoncartermusic
Skype:
thecarter
---
Added: Nov 20, 2009
Updated: Dec 23, 2010
Last logged: May 27, 2015
Skill/Title:
Skills:
Harp Player
Genre:

Genres:
Classical
Gender:
Female
Country:
UNITED KINGDOM
Cell. Phone:
07712455425
Website:
www.harpist-uk.co.uk
---
Added: Feb 9, 2016
Updated: Feb 9, 2016
Last logged: Feb 9, 2016

Skill/Title:
Skills:
Harp Player
Other skills:
Composer, Lyricist, Singer, Teacher, Writer, Piano Player, Recorder Player, Other...
Genre:

Genres:
Folk
Other genres:
, Alternative, Classical, Classical/Contemporary, Contemporary, Early Music, Electronic, Jazz, Traditional, Vocal, World, Other...
Gender:
Female
Summary/Notes:
"I'm an experienced performer and teacher who likes collaboration, originality and performance. Both original as well as more traditional repertoire. "
Address:
3 Assumption Place
City:
London
Country:
UNITED KINGDOM
---
Added: Oct 11, 2015
Updated: Oct 11, 2015
Last logged: Oct 11, 2015
Skill/Title:
Skills:
Harp Player
Other skills:
Bassoon Player, Piano Player
Genre:

Genres:
Classical/Contemporary
Other genres:
Alternative, Classical, Contemporary, Early Music, Folk, Jazz, Latin, Opera, Pop, R&B/Soul, Reggae, Rock, Soundtrack/Film Music, Traditional
Gender:
Female
Address:
holly house sidmouth ave
City:
Newcastle-under- Lyme
ZIP/Postal Code:
ST5 0QN
State/Province:
Staffordshire
Country:
UNITED KINGDOM
Website:
www.jessicasutton.co.uk
Other Website:
jessicalouisesutton.wix.com/jessicalouiseharpist
---
Added: May 29, 2014
Updated: May 30, 2014
Last logged: Jun 26, 2014
Skill/Title:
Skills:
Harp Player
Genre:

Genres:
Classical/Contemporary
Gender:
Female
City:
London
ZIP/Postal Code:
SE7
Country:
UNITED KINGDOM
Website:
www.aliciagriffithsharp.com
---
Added: Oct 8, 2013
Updated: Oct 8, 2013
Last logged: Oct 21, 2013
---
Added: Feb 14, 2013
Updated: Feb 14, 2013
Last logged: Feb 14, 2013
Skill/Title:
Skills:
Harp Player
Other skills:
Arranger
Genre:

Genres:
Classical/Contemporary
Other genres:
Christian, Early Music, Jazz, Pop, Soundtrack/Film Music, Traditional
Gender:
Female
State/Province:
South East
Country:
UNITED KINGDOM
Website:
www.harpmusic.co.uk
---
Added: Aug 7, 2012
Updated: Aug 7, 2012
Last logged: Aug 7, 2012
Skill/Title:
Skills:
Harp Player
Genre:

Genres:
Classical
Summary/Notes:
"Georgina's music career began at the age of seven back home in Fishguard, She has over 20 years experience playing the Harp and has obtained Grade 8 with Trinity College, London. Georgina has been tutored by many recognised harp tutors within Wales –"
Address:
Pembrokeshire / Carmarthenshire
Country:
UNITED KINGDOM
Telephone:
07967 648336
Website:
georginacornock.co.uk
---
Added: Mar 19, 2008
Updated: Mar 19, 2008
Last logged: Jun 15, 2013
Skill/Title:
Skills:
Harp Player
Genre:

Genres:
Classical
Summary/Notes:
"Experienced, versatile pedal, triple and celtic harpist"
Address:
86 Dinas Baglan Road, Port Talbot SA12 8AF
Country:
UNITED KINGDOM
Telephone:
+ 44 (0) 1639 884705
---
Added: Oct 1, 2007
Updated: Oct 1, 2007
Last logged: Jan 13, 2010
Skill/Title:
Skills:
Harp Player
Genre:

Genres:
Classical
Summary/Notes:
"Alll styles of harp and all styles of music."
Address:
3 Ashford House St Thomas Place Hackney E9 7PP
Country:
UNITED KINGDOM
Telephone:
+208 986 3555
Website:
www.parkerharps.com
---
Added: Mar 19, 2007
Updated: Mar 19, 2007
Skill/Title:
Skills:
Harp Player
Genre:

Genres:
Other...
Other genres:
Classical, Jazz, Pop
Summary/Notes:
"Classical, trad, jazz, rag-time. All kinds of music and recordings available. For more information, please contact via web page. Thank you"
Country:
UNITED KINGDOM
Telephone:
07850 288 969
Website:
www.dylancernyw.com
---
Added: Jan 15, 2007
Updated: Jan 15, 2007
Skill/Title:
Skills:
Other... Player
Other skills:
Arranger, Conductor, Researcher, Guitar Player, Harmonica Player, Harp Player, Piano Player, Violin Player
Genre:

Genres:
Classical
Other genres:
Blues, Classical/Contemporary, Opera, Vocal
Address:
Parsley Sidings, Broom Lane, Begelly
City:
Kilgetty, Pembrokeshire
ZIP/Postal Code:
SA68 0XF
Country:
UNITED KINGDOM
Telephone:
01834 810224
Cell. Phone:
07531414461
---
Added: Aug 26, 2009
Updated: Aug 26, 2009
Last logged: Aug 30, 2009
Skill/Title:
Skills:
Researcher
Other skills:
Other... Player, Harp Player
Genre:

Genres:
Classical/Contemporary
Other genres:
Blues, Country, Dance, Folk, Latin, Opera, Pop, Soundtrack/Film Music, Vocal
Summary/Notes:
"i have been teaching for many years and love my work.My pupils have achieved good results and many have gone on to have a career in music. My first study is singing and I am trained in the bel canto method.I also play the classical pedal harp."
Address:
meadow cottage,wester balgedie
City:
Kinross
ZIP/Postal Code:
ky139he
State/Province:
tayside
Country:
UNITED KINGDOM
---
Added: Apr 30, 2008
Updated: Apr 30, 2008
Last logged: Jan 21, 2009
---

Narrow by Genre:
Narrow by Skill/Title:
Narrow by Ensemble:
Narrow by Gender:

Featured Musician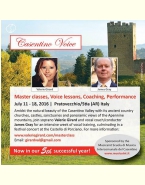 Casentino Voice 2016 - 11-18 July
Masterclasses, Voice Lessons, Coaching, Performance
"intensive Summer Course in Tuscany for Classical Singers"
Featured website
High quality classical sheet music to download instantly.
Who's Online Now...
Guests: 147 Members: 3

---

---
Features
---
Enjoy the Forums
Testimonials
"I am a singer and thanks to Musicians Page I got several contacts and new opportunities for my musical career..."
Other... Player
Security Seals