| | |
| --- | --- |
| Re: I'm New to Oboe posted by Sammi Notgoingtosay | |
---

Re: I'm New to Oboe
on November 14, 2011 @ 12:55 am

On October 26, 2011 Sammi Notgoingtosay wrote:



Hello! I realize my name on here looks funny, but that's because I'm only 17 and I'm not comfortable putting my full name online.

That being said, I'd like to ask you for tips on playing this lovely instrument. I'm a senior in high school, but I'm just starting on oboe. I play bassoon, so I'm used to a double reed, but the embouchure is so much different on oboe. In all honesty, I haven't practiced for so long that after a very short period of time, my cheeks get tired. I realize this is my first day of actually playing, but it's still quite obnoxious.

To sum up my prattling, do you have any tips for a beginner? Thanks so much!

I'm in 6th grade and I started playing oboe this year. Not many people play oboe so these posts rarely get replied to. I have a good tone quality (according to my teacher) I don't have that "duck" sound. If I play like 10 measures of notes my lips will give out and starting buzzing as if I were playing a brass instrument. I believe if you practice more, you can avoid that. Oboe is a hard and expensive instrument to play, over the past 2 months I have gone through 6 reeds and each reed is $15. Expect to pay more than $30 each month for reeds. You'll need patience and sometimes you'll get extremely frustrated and just throw your oboe. And its usually because of the reed. Don't let reeds discourage you, inspect a reed before you buy it and don't get frustrated. I recommend a Jone's Medium Soft Reed for practice and keep a Marlin Lesher for performances. Jones are consistent and durable while Marlin Lesher are fragile but sound great in short periods like in performances. Oboe reeds and extremely fragile so take care of them. Even if there is no physical damage, oboe reeds will stop playing or sound worse after a week or two. Don't use an oboe reed past 3 weeks because its not going to sound right.


Featured Band/Ensemble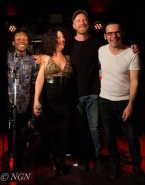 MonkeyRat
vocalist/poet/songwriter
"Anna Iachino is a musical genius AkramSoliman/RockerMagazine"
Featured websites
High quality classical sheet music to download instantly.
Notice: This Website takes advantage of web standards that your browser may be unable to support. This site may not display in the way it was intended in some browsers. However the page content should still be perfectly viewable in any internet capable device.
© 1999-2023 Musicians Page and Virtual Sheet Music, Inc. All Rights Reserved.