Artur Bayramgalin Creative Page

Artur Bayramgalin – Interro Island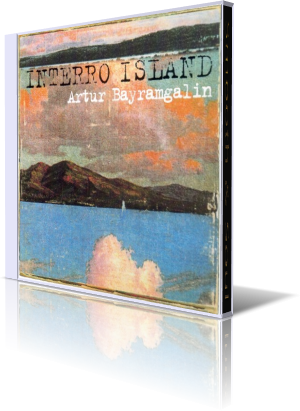 Hailing from Ufa, Russia, multi-instrumentalist Artur Bayramgalin is ready for a start off.
He has just recorded his debut album Interro Island in the Breezz Studio, Ufa and fosters his music in all jazz-networks and communities. He comments his new album: "This is my first solo project, which includes original tunes composed and arranged by me. I hope you will enjoy my work!"
Artur performs on his new album guitars, keyboards, drum programming, additional vocals and is supported by other musicians on several of the tunes.
Opener of the album is the title song Interro Island. Don't get confused by the atmospheric intro with the breath of wind and Azat Bikchurin's Kurai. After the first bars joins Artur with guitar and keyboards turning the song to a modern and unique contemporary jazz song. Artur continues an excellent dialog with Azat's Kurai adding finest keyboard sounds and Tablas rhythm. Alexandr Kartashov adds a perfect bass line to the song.
The entertaining Black Coffee melts elements of blues, jazz and smooth jazz to a drip-brewed captivating drink. Leysan Sharipova adds some vocal Wodka. In The Middle Of The Night features trumpet player Artur Gimev, who can certainly compared with Rick Braun, Greg Adams and Herb Alpert. Also impressing Artur Bayramgalin's performance on acoustic guitar.
Some sprinkles of cool jazz keep Joyriding moving. The bridges have some Samba flavor. Breathtaking are Artur's exuberant solos on keyboards and guitar. Café Rendez-Vous is featuring bayan player Ainur Fathov. The bayan is one of the most perfect chromatic accordions existing nowadays. On this tune Fathov creates the elegant French flair with a jazzy attitude.
Charismatically flows the tune Down The Smooth River, a melodic expression of Artur's personal affinity to smooth jazz. A brilliant interplay between Artur's guitar and Salavat Gumerov's elegant keyboards performance. Singer Leysan Sharipova delivers some vocale flair.
The easy going Merry-Go-Round features sax player Murat Arslanbekov. With Murat's pushing blows and his distortion guitar effects Artur creates a sovereign electric field. Looking At The Sky is a romantic lay back featuring the smooth facets of Murat Arslanbekov.
The album is closed with the shorter tunes Jazz Do It, a groovy tune with a shuffle beat and Leaving The Island, a view back to the native realms.
It's the personal note, the combination of local music with the smooth jazz style, which makes Artur Bayramgalin's debut album Interro Island unique and unforgettable. A real enrichment for the music world. Спасибо, Artur!


 
Artur Bayramgalin - Website

 

Buy the album
 

Album Information

Title: Interro Island
Artist: Artur Bayramgalin
Year: 2009
Length: 0:42:39
Genre: Smooth Jazz
Label: Breezz Studio


Tracks:

01 Interro Island [5:28]
02 Black Coffee [4:40]
03 In The Middle Of The Night [4:24]
04 Joyriding [4:45]
05 Café Rendez-Vous [5:06]
06 Down The Smooth River [4:54]
07 Merry-Go-Round [4:20]
08 Looking At The Sky [4:25]
09 Jazz Do It [2:14]
10 Leaving The Island [2:22]

---
Updated: February 3, 2011

---
Notice: This Website takes advantage of web standards that your browser may be unable to support. This site may not display in the way it was intended in some browsers. However the page content should still be perfectly viewable in any internet capable device.
© 1999-2023 Musicians Page and Virtual Sheet Music, Inc. All Rights Reserved.