Music Jobs Database
---
---
Latest Music Jobs, Projects or Opportunities
| | | |
| --- | --- | --- |
| DRUMMER | | yesterday @ 11:53pm |
| COUNTRY DUOS | | yesterday @ 11:52pm |
| PIANO BAR ENTERTAINER | | yesterday @ 11:51pm |
| STRING TRIO | | yesterday @ 11:51pm |
| String Trio for cruises | | Mar 30, 2023 |
| Piano accompanist for Pocono Concert Chorale | | Mar 30, 2023 |
| Online Ensemble | | Mar 21, 2023 |
| SINGER PIANISTS FROM EUROPE WANTED FOR RIVER CRU... | | Mar 16, 2023 |
| Rockband Bass | | Mar 16, 2023 |
| Rockband Keyboard | | Mar 16, 2023 |
| Rockband Drums | | Mar 16, 2023 |
| Rockband Guitar | | Mar 16, 2023 |
| Vocal Teacher | | Mar 16, 2023 |
| Saxophone Teacher | | Mar 16, 2023 |
| Violin Teacher | | Mar 16, 2023 |
| Drums Teacher | | Mar 16, 2023 |
| Piano Teacher | | Mar 16, 2023 |
| Guitar Teacher | | Mar 16, 2023 |
| Vocal Teacher | | Mar 4, 2023 |
| Saxophone Teacher | | Mar 4, 2023 |
| Guitar Teacher | | Mar 4, 2023 |
| Violin Teacher | | Mar 4, 2023 |
| Drums Teacher | | Mar 4, 2023 |
| Piano Teacher | | Mar 4, 2023 |
| seeking female lead guitar | | Sep 24, 2022 |
| â�ï&iques... | | Sep 10, 2022 |
| Piano Teacher (Bahrain, Middle East) | | Sep 7, 2022 |
| Violin Teacher (Bahrain, Middle East) | | Sep 7, 2022 |
| Leading Man for New Musical | | Jul 24, 2022 |
| Rural Outreach Program Music Facilitator Positio... | | Jul 19, 2022 |
| LOOKING FOR TROMBONE PLAYERS. OPENINGS ON BOARD ... | | Jul 18, 2022 |
| LOOKING FOR SAX PLAYERS. OPENINGS ON BOARD CRUIS... | | Jul 18, 2022 |
| LOOKING FOR TRUMPET PLAYERS. OPENINGS ON BOARD C... | | Jul 18, 2022 |
| LOOKING FOR GUITAR PLAYERS. OPENINGS ON BOARD CR... | | Jul 18, 2022 |
| LOOKING FOR BASS PLAYERS. NEW OPENINGS ON BOARD ... | | Jul 18, 2022 |
| LOOKING FOR PIANO PLAYERS. OPENINGS ON BOARD CRU... | | Jul 18, 2022 |
| LOOKING FOR DRUMMERS. OPENINGS ON BOARD CRUISE S... | | Jul 18, 2022 |
| Need Musicians to Volunteer w/us at Assisted Liv... | | Jul 7, 2022 |
| Marching Band - Washington Commanders | | Jul 1, 2022 |
| Composer looking for Singer (Tenor) | | Jun 26, 2022 |
| Hiring vocal artist/vocalist | | Jun 26, 2022 |
| U.S. Air Force Band Jazz Piano | | Jun 6, 2022 |
| U.S. Air Force Band Guitar | | Jun 6, 2022 |
| Marching Band - Washington Commanders | | May 18, 2022 |
| I need musicians for a new project | | May 2, 2022 |
| Hammond B-3 & Bass Player | | Feb 26, 2022 |
| Need Christian male pianist - collaborate record | | Feb 10, 2022 |
| East Side Blues band | | Feb 8, 2022 |
| Ready to Rock The Seas | | Jan 31, 2022 |
| Percussive Laptop Guitarists Come Float with Us | | Jan 31, 2022 |
| Classic rock band | | Jan 1, 2022 |
| searching for funky bass player | | Oct 22, 2021 |
| Teachers Piano, Guitar, Violin, Vocal, Drums, B... | | Oct 4, 2021 |
| Band seeking Keyboardist/Backing Vocals | | Sep 16, 2021 |
| Bass Player wanted | | Sep 7, 2021 |
| KEYBOARD PLAYER REQUIRED | | Sep 4, 2021 |
| JAZZ INSTRUMENTALISTS NEEDED TO TAKE OVER LAGOS | | Aug 27, 2021 |
| Violin Teacher | | Aug 27, 2021 |
| Lead Vocalist Country and Bluegrass | | Aug 20, 2021 |
| MUSICIANS / ENTERTAINERS WANTED | | Aug 19, 2021 |
| Jazz Band Needed to take over the Lagos Live Mus... | | Aug 10, 2021 |
| Band wanted playing the song and tunes of Disney | | Jul 27, 2021 |
| Guitar Teacher | | Jul 15, 2021 |
| Violin Teacher Wanted | | Jul 15, 2021 |
| Guitar Teacher | | Jul 1, 2021 |
| Piano Teacher | | Jul 1, 2021 |
| Violin Teacher | | Jul 1, 2021 |
| Vocal Teacher | | Jul 1, 2021 |
| Violin Teacher | | Jun 24, 2021 |
| Piano Teacher | | Jun 24, 2021 |
| PROG METALCORE BASS GUITARIST AND DRUMMER NEEDED | | Jun 7, 2021 |
| lead singer, Bass, lead Guitarist | | May 20, 2021 |
| Guitar Teacher | | May 6, 2021 |
| Piano Teacher | | May 6, 2021 |
| Music Teachers | | May 6, 2021 |
| Violin Teacher | | May 6, 2021 |
| Music Composers/Producers Wanted | | May 5, 2021 |
| Rock musicians / Led Zeppelin | | Apr 29, 2021 |
| Guitar Teacher | | Apr 23, 2021 |
| Piano Teacher | | Apr 23, 2021 |
| Violin Teacher | | Apr 23, 2021 |
| Minister of Music | | Apr 23, 2021 |
| Piano Teacher (Bahrain, Middle East) | | Apr 20, 2021 |
| Vocal Teacher - Bahrain, Middle East | | Mar 14, 2021 |
| Drums and Guitar Teacher Abu Dhabi | | Mar 3, 2021 |
| Violin Teacher (Bahrain, Middle East) | | Feb 16, 2021 |
| composer required for several classical pieces f... | | Jan 21, 2021 |
| Violin Teacher | | Jan 21, 2021 |
| Saxophone Teacher | | Jan 21, 2021 |
| Piano Teacher | | Jan 21, 2021 |
| Guitar Teacher | | Jan 21, 2021 |
| Drums Teacher | | Jan 21, 2021 |
| Drums Teacher | | Dec 10, 2020 |
| Guitar Teacher | | Dec 10, 2020 |
| Vocal Teacher | | Dec 10, 2020 |
| Violin Teacher | | Dec 10, 2020 |
| Piano Teacher | | Dec 10, 2020 |
| Musicians wanted to start a band | | Nov 19, 2020 |
| Violin Teacher | | Nov 19, 2020 |
| Vocal Teacher | | Nov 19, 2020 |
| | |
| --- | --- |
| External Jobs or Opportunities: | |
| | | |
| --- | --- | --- |
| 80'S Tribute band seeks Bass player Sunday Rehe... [report] | | yesterday @ 7:53am |
| Guitarist Wanted for Feature on Rock Song (must ... [report] | | yesterday @ 7:02am |
| Re: Drummer wanted [report] | | yesterday @ 6:54am |
| Saxaphone Wanted For 80s/90s Cover Band [report] | | yesterday @ 6:51am |
| Singer & Guitar player looking for Drummer &... [report] | | yesterday @ 6:31am |
| Keyboardist/auxiliary R&B needed [report] | | yesterday @ 6:00am |
| keyboardist, bassist and drummer needed [report] | | yesterday @ 5:45am |
| Looking for a guitar player for a project [report] | | yesterday @ 5:32am |
| R&B/funk BASS PLAYER NEEDED [report] | | yesterday @ 5:32am |
| Looking for guitar player for a project [report] | | yesterday @ 5:31am |
| Versatile Guitar Player Wanted for Working Cover... [report] | | yesterday @ 5:26am |
| SHOEGAZE BAND LOOKING FOR FEMALE VOCALIST [report] | | yesterday @ 5:24am |
| Drummer needed for power trio covers [report] | | yesterday @ 5:14am |
| Pro Lead guitarist seeking working cover band [report] | | yesterday @ 5:00am |
| Looking for drummer with nothing better to do. [report] | | yesterday @ 4:17am |
| looking for guitar player with nothing better ... [report] | | yesterday @ 4:17am |
| Lead Vocalist Needed [report] | | yesterday @ 4:17am |
| Looking for a bass player [report] | | yesterday @ 4:13am |
| Band looking for drummer [report] | | yesterday @ 4:03am |
| Drop tuned Thrash/metalcore band looking for a d... [report] | | yesterday @ 3:28am |
| Looking For Rock and Roll Drummer [report] | | yesterday @ 3:27am |
| Seeking Bassist and Drummer [report] | | yesterday @ 3:17am |
| Drummer looking to start a cover band [report] | | yesterday @ 2:58am |
| Vocalist, Songwriter and Composer looking for Gu... [report] | | yesterday @ 2:31am |
| Seeking Female Singers [report] | | yesterday @ 2:30am |
| Aux percussionist wanted [report] | | yesterday @ 2:10am |
| DRUMMER WANTED FOR LA INDIE ROCK BAND [report] | | yesterday @ 1:58am |
| Female lead vocalist seeking rock band [report] | | yesterday @ 1:31am |
| Violinist.......needed [report] | | yesterday @ 1:31am |
| Vocalist Wanted for DESCENDENTS Tribute [report] | | yesterday @ 1:12am |
| Lead Guitarists & Drummer Wanted For Cover B... [report] | | yesterday @ 1:04am |
| Guitar and Drums looking for Bass and...... [report] | | yesterday @ 12:26am |
| Seeking keyboard player (80s/90s new-wave/alt-ro... [report] | | yesterday @ 12:22am |
| Seeking lead guitarist (80s/90s new-wave/alt-roc... [report] | | yesterday @ 12:21am |
| Guitarist seeking to form a band [report] | | Mar 31, 2023 |
| Seeking Keyboardist [report] | | Mar 31, 2023 |
| drummer needed for indie band [report] | | Mar 31, 2023 |
| Artist Management Company Seeking Female Singers [report] | | Mar 31, 2023 |
| Looking for punk rock drummer [report] | | Mar 31, 2023 |
| Metal Band Seeking Bassist [report] | | Mar 31, 2023 |
| Singer Wanted for Originals only [report] | | Mar 31, 2023 |
| Original Band looking for a Singer-Songwriter [report] | | Mar 31, 2023 |
| Lead Guitarist, and Bassist or Keyboardist Wante... [report] | | Mar 31, 2023 |
| ROCK BASS NEEDED - NO FLAKES [report] | | Mar 31, 2023 |
| Bass Player Wanted RnB, Modern Rock originals [report] | | Mar 31, 2023 |
| Guitars Not Guns looking for volunteer guitar in... [report] | | Mar 31, 2023 |
| Seeking a drummer [report] | | Mar 31, 2023 |
| Looking for wicked funky bass player. [report] | | Mar 31, 2023 |
| punkgaze band looking for a drummer [report] | | Mar 31, 2023 |
| New LA Rock band seeks drummer [report] | | Mar 31, 2023 |
| Looking For Extraordinary Girl Corporate ,Weddin... [report] | | Mar 31, 2023 |
| Female Singer Wanted for Session - PAID [report] | | Mar 31, 2023 |
| Drummer wanted for parody band [report] | | Mar 31, 2023 |
| Rock band seeks small kit drummer [report] | | Mar 31, 2023 |
| Female Vocalist Wanted for a Duet [report] | | Mar 31, 2023 |
| Older Drummer Wanted [report] | | Mar 31, 2023 |
| Dynamic Keyboard Player Wanted [report] | | Mar 31, 2023 |
| Drummer & Lead Guitar/Keys Needed [report] | | Mar 31, 2023 |
| Death metal guitarist needed [report] | | Mar 31, 2023 |
| bassist / musicians wanted! Riyl: Elephant 6, Wi... [report] | | Mar 31, 2023 |
| alt/gaze band seeking bassist [report] | | Mar 31, 2023 |
| Looking for a Bass guitar player [report] | | Mar 31, 2023 |
| Bass player needed for classic rock band [report] | | Mar 31, 2023 |
| Vocalist/Bassist looking to join/form band [report] | | Mar 31, 2023 |
| Drummer needed for hardcore punk band [report] | | Mar 31, 2023 |
| Drummer Needed For Start Up Band [report] | | Mar 31, 2023 |
| Guitar player wanted for established band [report] | | Mar 31, 2023 |
| Lead Guitarist Wanted for punk rock band [report] | | Mar 31, 2023 |
| bassist wanted to jam [report] | | Mar 31, 2023 |
| Looking for KEYBOARD, ELECTRIC GUITAR, BASS, and... [report] | | Mar 31, 2023 |
| Looking for bass player! (Alt, prog, rock, metal... [report] | | Mar 31, 2023 |
| Classic Rock Band Seeking Bass Player/Singer [report] | | Mar 31, 2023 |
| Pro Bass player urgently needed for PAYING shows [report] | | Mar 31, 2023 |
| Blues drummer needed [report] | | Mar 31, 2023 |
| percussionist wanted for funk/reggae/soul band [report] | | Mar 31, 2023 |
| looking to start/join blues rock band [report] | | Mar 31, 2023 |
| Highly popular local gigging band seeks drummer [report] | | Mar 31, 2023 |
| GOSPEL SINGERS NEEDED [report] | | Mar 31, 2023 |
| Female vocalist looking to join or form a band. [report] | | Mar 31, 2023 |
| Bass Wanted 4 Punk Band [report] | | Mar 31, 2023 |
| Keyboard player wanted for country band [report] | | Mar 31, 2023 |
| Drummer needed (mathcore/ hardcore) [report] | | Mar 31, 2023 |
| Drummer needed for working cover band (boynton b... [report] | | Mar 31, 2023 |
| Guitarist wanted for Americana Alternative band [report] | | Mar 31, 2023 |
| Female Singer (Hip/Hop/Rap) Needed $50 an hour [report] | | Mar 31, 2023 |
| OZZY OSBOURNE Tribute Band seeks Singer and Bass... [report] | | Mar 31, 2023 |
| OZZY Tribute Band seeks Singer and Bassist [report] | | Mar 31, 2023 |
| FEMALE SINGER NEEDED FOR DUO [report] | | Mar 31, 2023 |
| Female vocalist wanted for music production [report] | | Mar 31, 2023 |
| looking to start a band or find musicians to jam... [report] | | Mar 31, 2023 |
| looking for guitarist/singer [report] | | Mar 31, 2023 |
| DRUMMER - UNICORN DRUMMER wanted [report] | | Mar 31, 2023 |
| The Churn band looking for bass player [report] | | Mar 31, 2023 |
| Metal/Prog/Dark Band Seeks Drummer [report] | | Mar 31, 2023 |
| Bassist wanted for Jazz & Contemporary Instr... [report] | | Mar 31, 2023 |
| Seeking versatile female vocalist [report] | | Mar 31, 2023 |
| Metal vocalist looking for band [report] | | Mar 31, 2023 |
| Drummer Wanted for Punk Band [report] | | Mar 31, 2023 |
| Female Singer looking to start or find a funk/so... [report] | | Mar 31, 2023 |
| Keyboardist wanted [report] | | Mar 31, 2023 |
Latest Music Employers/Services

Featured Service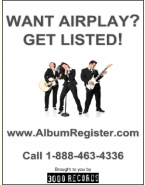 Helping musicians get airplay since 2004!
Individual
"This is a wonderful service. Thank you." - J. Archibald
Featured websites
High quality classical sheet music to download instantly.
Features
---
Enjoy the Forums
Testimonials
"This is a great site to post your music! Come join them and you wont regret it - your life is in the palm of their hands."
Other... Player
Security Seals